Derek Sibley - Founder & Owner
Meteorologist
Odessa, Texas
About Derek Sibley (owner of HurricaneConnect):
I have always had a significant passion for meteorology since I was a child. Growing up in south Florida, I experienced lots of meteorological phenomena, including sea breeze thunderstorm activity, squall lines associated with cold fronts, tropical storms, and hurricanes. It was not until 2004 that I began to take an interest into tropical systems. During the 2004 Atlantic hurricane season, four hurricanes struck the Florida peninsula, while two of them, Frances and Jeanne, made landfall about 3 weeks apart from one another an hour and a half north from my childhood home in Hollywood, Florida. Though the impacts to the south of those storms were minimal, it started a new experience of weather for me that I never experienced before. Little did I know the following year would change how I look at these monstrous storms forever. In 2005, like millions of others living in the hurricane zone along the coast, I experienced an even more catastrophic and deadlier season than the previous one. The 2005 Atlantic hurricane season was a season that no one will ever forget, as it spawned a record breaker 28 named storms, 15 hurricanes, and 7 major hurricanes, and at the time was the costliest Atlantic hurricane season on record. Out of those 7 major hurricanes, I experienced 3 of them, including Dennis, Katrina, and Wilma, all when I was just 11 years old. I experienced Dennis over water on a cruise ship in July with waves as high as 20-30ft while winds gusting to hurricane force, Katrina I experienced in August in south Florida in itís first landfall as a category 1, and finally, hurricane Wilma in October also in south Florida. I would say Wilma was the one that did it in for me and significantly raised my interest in tropical meteorology. Ever since that storm, tropical meteorology has become my favorite branch in the field.
From there, my heart and soul were set and committed to making a career out of meteorology. I began to network with other people interested in the same subject when I was in high school. I reached out to storm chasers whoís videos I saw on YouTube of tornadoes and hurricanes. Ironically, some of those storm chasers were in the south Florida area and relatively close by. I made great friends with these people who I still keep in touch with today. I expanded further by volunteering at hurricane conferences hosted by the state of Florida. Later I found myself volunteering at the Miami National Weather Service and National Hurricane Center. After seeing how the NWS & NHC keep the public aware of tropical systems, I asked myself, how can I help? In 2012, I started brainstorming about how I can open a website dedicated to the Atlantic hurricane season and help keep the public aware while connecting them to the storm of interest. Shortly after, I did just that, and HurricaneConnect was born on May 5 2012.
In 2013, I left south Florida to attend college at the University of South Alabama in Mobile. I graduated with my bachelorís degree in meteorology with a minor in mathematics in May of 2018 and returned to south Florida for the summer. I got my first job as an operational meteorologist for WeatherWorks in Hackettstown, NJ from November 2018 Ė March 2019. While on the job there I was issuing daily forecasts and heads ups to clients of upcoming snow storms and severe weather for their businesses and certified snowfall totals. Now Iím the morning meteorologist for KMID ABC Big 2 News in Odessa, Texas, not only am I giving the weather forecast every morning, but Iím also still providing lifesaving information of severe weather including tornadoes when the threat exists. Aside from work and HurricaneConnect, I love to storm chase, swim and go to the beach, catch a good movie, and Iím a huge fan of traveling and watching football games.
Contact Derek:
Email: dereksibley17@gmail.com
View Derek's resume

Michael Laca - Storm Chaser
Tropmet.com
Miami, Florida
About Michael Laca:
Michael is a long time veteran storm chaser that lives in Miami, Florida. He has chased several hurricanes in the U.S. and has some of the best footage on the web. Michael works as the senior web producer at Royal Caribbean Cruise lines. Without Michaelís help, HurricaneConnect would not exist.
More information & contact:
Website: www.tropmet.com
Email: tropmet@tropmet.com

Tim Millar - Storm Chaser
Cyclone Research Group.org
Lake Worth, Florida
About Tim Millar:
Tim is a veteran extreme weather chaser who travels North America to gather scientific data with vehicles that are highly equipped with meteorological instruments. HurricaneConnect teams up with Tim and the cyclone research group frequently to whether the storms. Not only does Tim chase hurricanes, but he also chases tornadoes and even winter storms. Tim works as a pilot for amerijet and has a wife and daughter. He resides in Lake Worth, Florida.
More information and contact:
Website: www.cycloneresearch.org
Email: info@cycloneresearch.com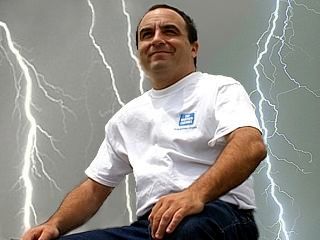 Chris Collura - Storm Chaser
Sky-Chaser.com
About Chris Collura:
Chris is a long-time storm chaser who chases both tornadoes and hurricanes and is another chaser that we frequently team up with to intercept tornadoes and hurricanes. Chris has chased some of the deadliest storms in the Atlantic, including Charley, Katrina, Harvey, and Maria just to name a few. He skydives as a second major hobby and works part time as an IT consultant.
More information & contact:
Website: www.sky-chaser.com
Email: cdcollura123@gmail.com

Josh Morgerman - Hurricane Chaser
icyclone.com
West Hollywood, California
About Josh Morgerman:
Josh travels worldwide to chase tropical cyclones. His goal is to capture the most dramatic footage of a landfalling storm. Occasionally HurricaneConnect runs into Josh in hurricane chases and he is a supporter of our site. Josh has some of the most incredible video of intense hurricanes and typhoons on the web. He lives in West Hollywood, California and works at Symblaze which he co-founded.
More information & contact:
Website: www.icyclone.com
Email: info@icyclone.com